Although experts have suggested electric vehicles aren't any less safe than their gas-powered counterparts, five fires in less than two weeks hasn't been good for optics.
At least five electric vehicles have caught fire in China so far this month, sparking public safety concerns.
On Saturday, an electric vehicle manufactured by Zhengzhou Nissan Auto Co. Ltd. — a joint venture between the Japanese automaker and Dongfeng Motor Group, its domestic partner — reportedly caught fire, destroying three nearby vehicles at a charging station in the southern city of Dongguan.
A Zhengzhou Nissan staff member told Sixth Tone on Tuesday that the company has sent experts to look into the case, and they will publicly release their findings once the investigation is completed.
The day before, the engine of an electric car made by domestic manufacturer Lixiang Automotive caught fire in the street in Changsha, capital of the central Hunan province. The company later said that the car's battery had not caused the fire, and that a report would be released pending an investigation.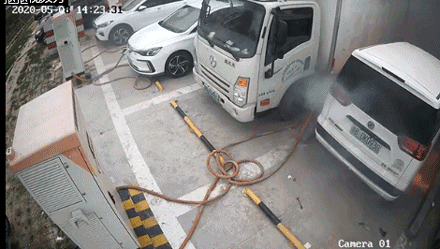 A GIF shows a Zhengzhou Nissan electric vehicle catching fire in Dongguan, Guangdong province. From Weibo
To tackle high pollution, the Chinese government has heavily subsidized the domestic electric vehicle industry for years, while also building a large network of charging stations, encouraging officials to buy electric, and issuing "green passes" for the use of special lanes in city streets or at highway tolls. In late April, amid concerns that these subsidies would be rolled back as planned, authorities said they would be extended to 2022, albeit with progressive cuts of 10%, 20%, and 30% each year.
China is a global leader in electric vehicles, with its 1.2 million units sold last year accounting for over half of all electric vehicle sales worldwide. However, amid slowing economic growth and trade tensions with the U.S., the China Association of Automobile Manufacturers said in December that the domestic electric vehicle industry had reported its 17th consecutive month of reduced sales.
In June of last year, the Chinese government mandated that manufacturers should conduct full safety inspections of all new-energy vehicles. Then in October, the State Administration for Market Regulation announced that automakers should report any potential safety issues related to electric cars within 12 hours of being detected.
However, the Chinese public continues to harbor concerns about the safety of electric vehicles. According to a March 2019 survey, nearly 70% of respondents said they regretted buying an electric vehicle due to battery quality issues. In June, Chinese automaker Nio recalled nearly 5,000 electric cars after three caught fire due to battery problems.
Although electric vehicles have a tendency to make headlines when they catch fire, the rate of such incidents is extremely low at just 0.09%, according to a 2020 reportfrom China's National Engineering Laboratory for Electric Vehicles. Meanwhile, the monthly defect rate for electric vehicles fell from a high of 18% in October 2018 to around 8% a year later. The report further suggests that, among all electric vehicle safety incidents from July to December, batteries were responsible in 61% of cases, and 21% of these battery-related cases involved the same unnamed manufacturer.
At an industry conference earlier this year, Sun Fengchun, a professor of mechanical engineering at the Beijing Institute of Technology and a participant in the report, suggested that electric vehicles are less prone to fires than gas-powered vehicles: There are 2-4 fires per 10,000 gas-powered vehicles each year, he said, compared with 0.9-1.2 fires per 10,000 electric vehicles.
Sun says people should view the fire incidents rationally, and claims that China's automotive inspection system can prevent around 70% of these cases from occurring.
Echoing Sun's statistics, Wang Yunsong, deputy director of the State Administration for Market Regulation, said in November 2019 that there was "no evidence" that electric vehicles are less safe than gas-powered vehicles.
Editor: David Paulk.
Source: Sixthtone